Reviews for 'TRADE WIND' (1963)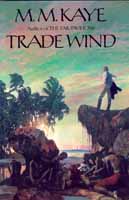 Here are some newspaper reviews for Trade Wind dating from 1963, when the novel was originally published. It is interesting to compare them with the reviews published 18 years later in 1981 when Trade Wind was republished following the enormous commercial and critical success of The Far Pavilions.
Description inside the dustjacket: "In Trade Wind M. M. Kaye tells a story which displays a wealth of exciting incident against an historical back-ground of great fascination, much of which is based on fact. This novel gives full scope to her skill in devising a full-blooded tale of adventure, suspense and romance, which will enthral the huge audience which M M Kaye now has throughout the work following the success of The Far Pavilions and Shadow of the Moon.
Most of the novel takes place in Zanzibar in the middle of the nineteenth century, at which time the lovely island had become the last and greatest centre of the Slave Trade.
The story involves two pairs of adversaries - Daniel Larrimore, a naval officer of the British anti-slavery patrol, versus a renegade English slaver, Emory Frost; and the ruling Sultan, Majid-bin-Said, whose half-brother and Heir-Apparent, Seyyid Bargash is plotting to depose him. A visitor to the Island, the Amercan Consul's niece, Hero Hollis, who has arrived there under peculiar circumsstances, passionate opponent of slavery, and her main reason for coming to Zanziar is a determination to do everything possible to stamp out its abominable traffic in human beings,; a crusade in which she feels sure that her uncle's handsome stepson, Clayton Mayo, can be counted upon to help her. But the task she has set herself proves to be far harder, more violent and more complilcated than she had ever imagined, and she finds herself involved in considerable trouble, including an armed revolt, an abduction, and an appalling cholera epidemic that claims the lives of over twenty thousand of the island's inhabitants...
M. M. Kaye's Trade Wind once again combines the author's superb narrative gift with the power to bring vividly to life an exciting and colourful episode of history. First published in an edited form nearly twenty years ago, Trade Wind is now being published as it was originally written."
* * *
'A wealth of incident against a fascinating background… a beautiful, almost lyrical style of writing. ' Liverpool Daily Post
* * *
'Strong narrative… telling descriptions'  Birmingham Post
* * *
'Frangipani, jasmine and cloves… palace intrigues… slave trades, cholera, pirates and storms at sea… a huge book.'  Guardian
* * *
'A swashbuckling saga set in Zanzibar in 1860.  "Trade Wind" won't impress you with its ideas of narrative technique.  Firm and foursquare rather than innovative, it rarely exceeds the bounds of historical fiction, the genre to which it belongs.  Its length (552 pages), large cast of characters, busy plot and reliance upon heredity (its main character Hero Athena Hollis of Boston has inherited her mother's passion for humanitarian reform) all invoke the Victorian era.
Equally Victorian is M M Kaye herself, who forgoes the cool irony and elaborate symbolism of the modern story teller in favour of immersing herself in her people's lives with the gusto of Dickens.
This gusto recommends "Trade Wind" to us.  First published in 1964 with its now restored opening chapter omitted, it gives the lie to the humourless intelligentsia who derided historical fiction as commercial escapism.  What the book forfeits in psychological insight, it recovers in its ability to evoke wonder and awe.  The marvellous, that useful legacy of Gothic fiction, permeates the action: A wrinkled New England crone prophesies Her Hollis' future when Hero is only 6 years old.  Soon after an African witch doctor curses some buried treasure whose hiding place he is forced to reveal, a woman who had been given a necklace from the buried cache dies horribly.  Drumbeats explainable only by local legend foretell a cholera epidemic that will depopulate half of Africa and two-thirds of Zanzibar.
As she proved in her blockbuster hit, The Far Pavilions (1978), Kaye has the stylistic power and grace to bring this menace to life.  Vivid descriptions throng Trade Wind.  Bullets pop, crack and whine; the sea will roll and pitch in a heavy storm or lie sullen and sluggish under a blazing sun.  Kaye's rich, accurate phrasing also makes Zanzibar a study in contrasts, beauty and squalor coexisting in the fabled Island of Cloves.
Trade Wind is an old-fashioned novel that proclaims traditional virtues in a way that pulls us up and makes us take note.' St Louis Globe-Democrat, 26 September 1981 by Peter Wolfe
* * *
'Not up to the standards of The Far Pavilions – too solidly based on history and containing glimmers of characterisation.  The action is well described.  It is the passages in-between that pall.'  The Daily Telegraph, 11 June 1981 by David Holloway
* * *
'TRADE WIND (Audio Book) by M.M.Kaye is perhaps one of the best audio novels we have ever heard. It is for a very long trip because it encompasses, in the unabridged version, about 25 hours of fascinating listening. The writer spent many years in British Colonies and writes about them, weaving a tantalizing love story with terrific characterization into the history and exquisite descriptions of the time and place. This one is set in Zanzibar during slave trading days in the mid-1800's. It is beautifully written and read. It will hold your attention to the very last word and you'll be sorry it is not even longer! The only problem is that after this listening you will find it difficult to find another audio novel so captivating.' Audio book review
* * *
'TRADE WIND BLOWS NO GOOD  - This is the second time around for Trade Wind and in fact it was written before The Far Pavilions.  The book did not sell and was pulled from the market.  Few writers whose books bombed in earlier versions are given the opportunity to see them published again, but the vast popularity of The Far Pavilions turned the trick, and Trade Wind is on the best-seller list.
The story takes place in Zanzibar, Isle of Cloves.  The time is just before the civil war.  The heroine is Hero Athena Hollis, a wealthy New England orphan who sets out to join her uncle, the American consul in Zanzibar.  She is a Boston-born abolitionist, filled with self-righteousness and bent on good deeds.  Hero intends to reform the slave traders of Africa.
She encounters the renegade slaver Rory Frost, plus the plague, a revolution and palace intrigue.  The book is called a historical romance, and is loaded with the hows and whys of slavery, concubines and the life of the small white community in Zanzibar.
Much research and detail has gone into this book, but it is slow and dreary reading.  The writers, on the other hand is most interesting.'
* * *
'Like Shadow of the Moon, Trade Wind is an expansion of a novel published some years ago (1964), before M. M. Kaye hit it big with The Far Pavilions; but since readers don't seem to mind the recycling (Shadow of the Moon was a best-seller), even this lesser period-romance chestnut should do quite well.' Kirkus Review, 2 July 1981
* * *
'TRADE WIND' FULL OF HOT AIR
Overblown novel floats in a sea of crimson prose
Take one heroine who is virginally naive but extraordinarily wilful.  Put her into an exotic locale.  Shake her up well with some devastating Act of God.  Add a handsome, forceful rogue whom readers will immediately find likeable but the heroine will instantly loathe.  Mix in a batter of purple prose that will make even blood seem colourless and you've got a perfect recipe for gothic romance.
M M Kaye, author of the justifiably successful epic novel the Far Pavilions has dusted off a manuscript first published into a dutifully edited edition in 1963 and hoisted by her popularity with oversized novels has miscalculatingly restored the cut text.  Trade Wind is the result, the type of book that could be vastly aided by editorial trimming – with a machete, not a blue pencil.
It is not enough that we must wade through this word swamp to glean the plot line.  St Martin's Press, which has affirmed a hefty $15 price tag to the book, has put it in one of the most blatantly cheap bindings ever.  Sandwiched between two pieces of coloured cardboard are 53 almost margin-less pages of glorified newsprint,= with eye-straining typeface. 
Just whey the3 book is so expensive is difficult to fathom – there was obviously no editor to pay, judging from the text, and the volume is hardly as big as The Far Pavilions which cost less.
So I'm going to save you some money and show you the late-arriving 'hot' part of the book: Rory put his arms about her and held her so hard against him that she did not know if it were his heart she could feel beating or her own.'
Not exactly your R-rated stuff but also not very logical.  If you embrace someone, their heart will be on the opposite side of yours. Given that, it shouldn't be too difficult to distinguish one's own heartbeat.
There is a hot wind blowing through here all right, but it's not of the trade variety. By Michael S Lasky, The Mercury News, 1981