REVIEWS OF 'HOUSE OF SHADE'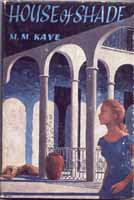 Here are some newspaper review of House of Shade (re-issued as Death in the Zanzibar in 1983) when the book was originally published in 1959.
On the inside of the dustjacket: "Dany Ashton was eighteen. Her first exciting journey abroad was planned to take her to Zanzibar, where her step-father was giving a party in the h ouse he had inherited. For company on the journey she had Lash Holden, a young man somewhat given to alcoholic excess, and an assortment of fellow guests also bound for the 'House of Shade'.
The prospect seemed fair. Yet in the event Dany left England with a false passport, and under suspeicion of murder. And her arrival in Zanzibar was followed by another violent death.
M. M. Kaye has written a light-hearted 'whodunit' with interesting characters, a romantic setting and local intrigues. House of Shade is agreeable, exciting, surprising - a worthy successor to Death Walked in Berlin and Later Than You Think."
* * *
'HOUSE OF SHADE is a murder mystery.  After some colourful scenes in London, Miss Kaye transports her principal character to Zanzibar, where from the elements of Communist intrigue, search for treasure and a corpse or two she works out a well-organised story, making the most of the local colour.' New Zealand Listener, 29 January 1960
* * * * *
And here are some newspaper reviews when the House of Shade was republished in 1983 as Death In Zanzibar.
'I recommend it wholeheartedly to those who fancy the idea of Agatha Christie with a touch of romantic suspense.' Auberon Waugh in The Standard
* * *
'A plot whirling round buried gold, a couple of murders, and suspects aplenty… bitchily gossipy; gently ingenious.' Sunday Times
* * *
'Death in Zanzibar is a thoroughly engrossing novel.  It has the rich and dramatic story of a romance and conflict which we have come to expect of M M Kaye, plus a diverting mystery which has a logical but very surprising climax. This should be a really double-double-plus, and indeed it is.  My congratulations to the publisher, the author, and to her millions of devoted readers.'Mignon G Eberhart, author
* * *
'A best-selling writer's first-rate murder mystery has been combined with a romance to tickle everyone's fancy… M M Kaye originally wrote this beautifully crafted… novel some years ago.  She has revised it for this edition, and it si indeed worthy of another plaudit for this extraordinary writer.'San Diego Union
* * *
'Remember what it was like to lose yourself in a good book? A superb storyteller has taken over the classic mystery.  Read M M Kaye's Death in Zanzibar and stop missing Christie.'
Carol Brenner, Murder Link
* * *
'Death in Zanzibar has the kind of plot, character and circumstances associated with the Christie era; exotic locale… light romance… several politely executed murders,  moneyed classes at play, clever amateur detective, neat resolution.'  Philadelphia Inquirer
* * *
'M M Kaye is a master at providing suspense… Surprise twists mark the conclusion of this excellently written and conceived novel.  The characters… are beautifully drawn.  Death in Zanzibar is highly recommended.'  UPI
* * *
'M M Kaye fans will probably delight in this early murder mystery… It has plenty of shivers… Kaye's mystery-love story unravels nicely… in an exotic setting.'  Publishers Weekly
* * *
'Highly atmposheric, and not to be missed.' Books and Bookmen
* * *
'An engaging murder mystery in the christie mould.' Daily Express
* * *
'Sit back and relax. Let yourself be transported back to the 1950s when young ladies wore hats and gloves and needed protecting. When gentlemen smoked, opened doors and were in charge of the world.
M M Kaye's Death in Zanzibar, originally published in 1959, tastes just fine in 1999. Dany Ahston's actress mother invites her just-out-of-school daughter to visit her and her stepfather in far-off, exotic, polically independent Zanzibar.  Elated by her sudden freedom from a chaperon auntie, Dany checks herself into the Airside Hotel in London. Dany plans to treat herself to a pleasant round of shopping, theatre and good times before she joines her mother's and stepfather's other guests for the long flight to Zanzibar via Italy, Khartoum and Nairobi.
After running an errand for step-papa, young Dany takes herself off to the newest play gracing the London's stage.  Surprisingly, given her night on the town, she awakens before breakfast tea the following morning and decides to slip out into the  hall to collect her morning newspaper.  Big mistake.  Dany soon finds herself locked out of her room, shocked by the news that the object of her errand was murdered and rescued (after a fashion) by the very handsome, very drunk Lash Holden.
You gotta love a book in which the hero makes his entrance the morning after the night before, carrying a large, plush, white cat named Asbestos.
Dany and Lash make a delightful couple. Lash, in particular, proves outrageously creative in solving Dany's difficulties, whether they are a stolen passport, intruders or murder.'  Crescent Blues Book Reviews, Suzanne Frisbee
* * *
'Fans of Kaye's bestselling historicals (The Far Pavilions, etc.) are in for a limp little surprise if they're expecting more in her lushly romantic/exotic line: originally published in Britain in 1959, this is a contemporary mystery-gothic in the creakiest damsel-in-distress mode - blandly readable but dated, corny, and outclassed by dozens of others in the genre.  A soggy throwback, with old-fashioned racism and only a dollop or two of Zanzibar atmosphere but don't underestimate the selling power of the Kaye byline and a big ad campaign.'  Kirkus Review , 2 May, 1983