Reviews of 'SIX BARS AT SEVEN'
Here are some newspaper reviews of Mollie's first detective novel Six Bars At Seven when the book was originally published in 1940.
On the back of the dustjacket: "This story is at once splendid melodrama and great fun. A skilfully worked-out thriller, it is written with immense gusto and with bright and shimmering dialogue. It tells how a young ace of Scotland Yard pursues German crooks who have schemed to blow up the 'Olympic' express. How the perils he encounters lead to his friendship with the glamorous Candacy Clyde provides first-class entertaiment. All the characters in the book are alive and cleverlyl drawn and, as the story closes, we part with them with genuine regret."
'THIS is a skilfully worked-out thriller that is written with great gusto, which will convey its delightful enjoyment to the reader. The dialogue is bright and shimmering and genuinely amusing. It is a most diverting melodrama, and undoubtedly Miss Kaye will win with this first novel a very wide public.' 8s. $d.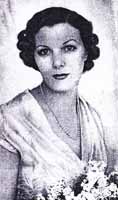 Miss Mollie Kaye
A recent studio portrait of the attractive daughter of the later Sir Cecil Kaye, the well-known cipher expert of the last war.  Miss Kaye has just brought off a best-seller with her first novel, Six Bars At Seven, published by Hutchinson, and the book has just gone into a second edition.  The authoress is at the moment in Kashmir, writing its successor.  Miss Kaye is also well known as an exceedingly clever artist, and it is thought that she will go far. The Tatler, 3 July, 1940 by Richard King