Ashes of Far Pavilions author scattered in lake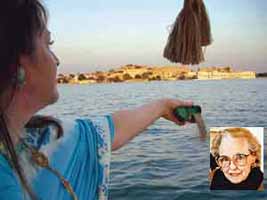 In a simple ceremony that reflected her love for India, the ashes of Mary Margaret ("Mollie") Kaye, the author of The Far Pavilions, were scattered in Lake Piccola in Udaipur at the weekend.
This was in accordance with her wishes and those of her family, especially her daughter, Nicola Hamilton, who said "The Far Pavilions was my mother's love letter to India."
Kaye, who was born in India in 1908 at Simla, the summer capital of the Raj, moved "reluctantly" to Britain in 1947 at Indian independence and died, aged 95, in 2004, a year before a musical version of her novel opened in London with her blessings. "India was home for mother", said her daughter. "She saw India through an Indian eye, not a European one."
The ashes were taken to Udaipur - which Kaye visited in the 1970s to research her novel - by Michael Ward, who produced the musical, and his wife, Elaine. They hired a Kashmiri houseboat on Saturday, sailed to the middle of Lake Piccola and at sunset dispersed the author's ashes into the royal waters.
By Amit Roy, March 2006