DEATH IN KASHMIR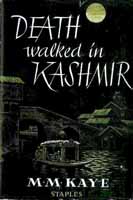 Here are some newspaper reviews of Death Walked In Kashmir (1953) (reissued as Death in Kashmir in 1984):
On the inside of the dustjacket: "When young Sarah Parrish innocently befriends fellow-skier Janet Rushton during a holiday in Gulmarg, in Kashmir, she soon finds herself involved in an intrigue of secret messages, mysterious rendezvous - and murder. All is temporarily forgotten when she encounters the handsome Charles Mallory: though, unfortunately for Sarah, a number of photographs of a pretty girl adorn his rooms. But nothing and nobody are as they appear...
A gripping tale of romance and mystery, Death in Kashmir also provides a fascinating insight into life and politics in India at the time - and even hints at what troubles lay ahead for that complex and beautiful country."
* * *
'Devotees of true detection... will welcome Death Walked in Kashmir' Times Literary Supplement, 1953.
* * *
'A long leisurely and very readable secret service thriller.... this is an unusually convincing tale.' Sunday Times, 1953.
* * *
'The plot is credible... the writing first-rate.  An out-of-the-ordinary thriller... and one that is genuinely hard to put down.' Manchester Evening News, 1953
* * *
'M M Kaye handles her material with aplomb.  The setting – Kashmir's mountains, lakes, houseboats and hotels – comes exotically, enticingly alive.  And the narrative unfolds superbly.  There's enough suspense to tickle the spine and make the heart trot faster than normal… Death in Kashmir is like a sprightly, good-humoured maiden aunt – old-fashioned, perhaps but great fun.' The New York Times Book Review
* * *
'Death in Kashmir, like the other books in the series, goes beyond mere escape reading to a new genre altogether; the antidote novel, a book you read not to forget the world as it is, but to reverse it.'  The Los Angeles Times Book Review
* * *
'It's always nice to get what you expect when you lay your money down, and the mystery novels of M M Kaye have the charm of being utterly predictable; a touch of mayhem in an exotic location, some wholesome romance and a plucky young English heroine to set things to rights.  There is something cosy in the author's no –nonsense approach to fantastic events in fabled places… Appealing.'  Boston Globe
* * *
'As usual, M M Kaye has dropped a neat, taut, well-written story into an exotic background.  The mixture of the two makes spellbinding reading for those who savour good suspense. It's difficult to believe this series was written more than a quarter of a century ago and updated recently for publication by the author.  It proves, if nothing else, that writers with talent are successful in whatever they tackle.'  Chattanooga Times (Tennessee)
* * *
'It's 1947; with India on the verge of independence the days of the Raj are numbered. Sarah Parrish, with friends ""Fudge"" and Hugo Creed, is on a skiing holiday in the Kashmir mountains that ends abruptly when Hilda Matthews and Janet Rushton are killed in separate skiing ""accidents."" Whodunit? Well, Sarah knows that the dead women were British agents, hunted by enemy agents looking for Janet's secret cache of information. And some months later Sarah, following clues to the hiding-spot of the secret info, winds up on a Kashmir houseboat where she keeps stumbling into dark, empty spaces, in a constant state of apprehension. Luckily, then, there's handsome, polo-playing Capt. Charles Mallory to rescue Sarah from every crisis including the final one, when all is revealed: a complicated Communist plot behind the cryptic messages... and an enemy agent in hearty British disguise (as usual). Slow, long-winded going, with more of the dated romance-suspense clichés on display in other recently published Kaye relics but some nice Kashmir scenery helps, along with serviceable evocations of British colonial/eccentric lifestyles. (The late Paul Scott, author of the definitive Raj Quartet, was a long-ago Kaye mentor.)' Kirkus Review by M. M. Kaye - RELEASE DATE: Oct. 1, 1984
* * *
'It gives me great pleasure to reread M. M. Kaye's romantic suspense novels. Paging through this reprint of Kaye's 1984 mystery Death in Kashmir, I got that nice feeling of discovering a book I once liked very much, but forgot. I remembered the plot kicker but little else. Would the book stand up to the test of time? Since I remembered a crucial plot point, would the book retain its suspense? The answer to both questions is "yes."
The story takes place after World War II, when England granted home rule to India. Shortly before the British army leaves the former colony, Sarah Parrish visits her aunt and uncle at her uncle's military post. Sarah sees her trip as a bittersweet farewell and welcomes the opportunity to vacation in Kashmir, which serves as a resort for the British. The province's vast mountain ranges offer skiing during the winter and respite from the terrible heat in the summer.
The first sentence sets the eerie tone of the book: "Afterwards Sarah could never be quite sure whether it was the moonlight or that soft, furtive sound that had awakened her."
On edge because of the tragic skiing death of fellow vacationer Hilda Matthews (whose room lay two doors away from hers), Sarah decides to investigate. She meets Janet Rushton, a very frightened spy for British intelligence. Hilda, Janet's superior officer, didn't die by accident. Someone murdered her. Hilda and Janet knew secrets vital to British intelligence. They requested help to get the secrets and themselves safely away, but help never came. Foreseeing her own death, Janet arranges to send these secrets to Sarah if the worst happens.
The worst happens, but it was an accident. Wasn't it? I hope you enjoy this excellent tale set in a gracious, long gone world as much as I did.' Suzanne Frisbee, Crescent Blues Book Review
* * *