Reviews of 'DEATH IN BERLIN'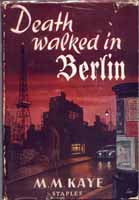 Here are some newspaper reviews of Death In Berlin (1985) (originally published as Death Walked in Berlin in 1955):
On the inside of the dustjacket: "From a lonely stretch of coast, a boat pushed out one night into a fog-shrouded sea. To the vicious chatter of machine-guns and the sound of running feet, the laden boat was thrust off into deep water and the fog closed behind it. A woman ran wildly across the shingle; she was too late - the boat had gone. There was nothing to show it had ever been there. Turning from the sea that had betrayed her the woman ran back like a hunted animal towards the low sandy cliffs and the hostile land.
Miranda cannot remember clearly in later years all the events of that terror-stricken night of her childhood. When Brigadier Brindley relates the strange story of Herr Ridder and the mystery surrounding his disappearance, she remembers enough to start a definite train of thought in the keen brain of Simon Lang, who is already working on the fragments of the puzzle. Her days and nights are now filled with fear. She knows, with a dreadful certainty, that somebody is watching her, that eyes follow her every movement. Horror mounts when, almost delirious with terror, she stumbles on the body of Friedel, and when later she recognises the dead and staring face in the weed-filled pond."
* * *
'Well-paced… Appealing… A sustained atmosphere of menace.'
The New York Times Book Review
* * *
'Genuinely suspenseful… Kaye neatly evokes postwar Berlin in the early 1950s, using that ruined city as an imaginative backdrop.'
Publishers Weekly
* * *
'Absorbing… There are a lot of mysteries surrounding World War II.  Stories of vast treasures, betrayal and murder abound.  Post World War II Berliners had their share of such stories.  M M Kaye picked Berlin in 1953 for such a story.' Arizona Daly Star
* * *
'Refreshing… Intricate.'Knoxville News-Sentinel
* * *
'Another consummate mystery from one of the finest story tellers of our time.'Mystery News
* * *
'Every bit as good as Agatha Christie.'San Ramon (CA) Valley Herald
* * *
'If you enjoy Mary Stewart mysteries, you might want to check this one out. Kaye uses the same idea of a young, innocent woman thrown into conditions outside of normal who has to try and survive deadly peril. She uses period details to place you directly in the time and place (having been stationed with her Army husband in Berlin in 1953; the story was first published in 1955). She does a good job of leaving hints and clues and there were only a few minor details that had to be left for the post denouement wrap-up. It is also typical in that the heroine's POV is the only one we see. I'd give this one a B and am looking forward to the rest of the "Death in" books.' Dear Author.com, published 29 November 2006
* * *
'Kaye's latest, set in 1953 Berlin, finds newly posted British Army Officer Robert Melville settling in with jealous, homesick wife Stella, daughter Lotte, and governess Marie Beljame. Robert's pretty cousin Miranda is visiting and finds her traumatic-childhood war memories revived by a story of missing diamonds and murder - a story told by a Brigadier Brindley, who's found next morning stabbed to death. Emotional undercurrents and echoes of the past abound, but the answer is in the present, as Miranda discovers in a face-to-face with the murderer. Army investigator Simon Lang to the rescue, of course. Though fraught with the trembling hands and stricken glances typical of the author's style (Death in Cyprus, etc.), Death in Berlin provides leisurely, well-plotted, affable entertainment.' Kirkus Review by M. M. Kaye - Release date: June 6, 1985
* * *
'Set against a background of war-scarred Berlin in the early 1950s, M. M. Kaye's Death in Berlin is a consummate mystery from one of the finest storytellers of our time.' Goodreads.com
* * *
'I liked this instalment, but I didn't love it. It started strong, with a murder on a train that was reminiscent of The Murder on the Orient Express – mysteries set on trains are an especial weakness of mine. However, once we arrived in Berlin, I just wasn't feeling the love for the setting. Post-war Berlin was grim, and although the discussion of the different sections of a divided city was interesting, I prefer the more exotic settings in her other books.
So, this is the least favourite of the M.M. Kaye's mysteries so far. It is well-written and the plot is interesting, but I didn't engage with the characters, and found the setting to be humdrum.' Allthevintageladies.com, 15 October 2018
* * *
'M. M. (Mary Margaret) Kaye was a successful romance author including to her credits The Far Pavilions. She wrote six mystery novels. The novel is set in the joint occupation of Berlin period of the early 1950s prior to the Berlin Wall. While the setting is after the blockade, it is not a subject of the book. The book is along the historical romance mystery trend of Charade, it is not as finely crafted as that work.
This book does the full gamut. We begin with a murder on a train, mix in Nazi plots and loot, the handsome police officer and the attractive endangered lass. Of course we start with the lass being a suspect due to her unfortunate affliction of stumbling over corpses with the necessary telltale blood stains.
The heroine and narrator is Miranda Brand. As a child escaping from Berlin, Miranda's doll was used to smuggle stolen money and jewels. The amount recovered from the doll is only a small portion of a fortune in diamonds looted in the Nazi attack on Holland. By strange coincidence one of the British investigators who tried to track the stolen diamonds after the war is on the same train as Miranda. Brigadier Brindley's story enthrals almost everyone, but one of the listeners is a harsh enough critic to silence him forever.
Miranda is travelling with her cousin, Robert Melville, and his wife to his military posting in Berlin. The unfortunate death of the Brigadier is just the first involving the train passengers after they get to Berlin. The action is at a steady pace, although a little slow in the beginning.
The character and the background are a little shallow. It would seem that this child magically has reached young adulthood without any mention of the time from being a rescued refugee to the trip. Like the transformation of moth to butterfly, Miranda goes from the discovery that she spoke English at the refugee station to the fateful train trip. Several of the other main characters are shallow and without real personalities.
The time period also would have presented a very rich background to weave the tapestry, but the author rejects this as well as the charged political atmosphere. Thus the work is along the lines of Charade without the compelling drama to similarly make it a classic. The work is journeyman. It is worth the effort to locate in your local library just to provide light entertainment. It is a suitable broth, but lacks the meat and potatoes. If I see another M. M. Kaye, I'll read it, but I won't be scouring the bookshops for her other titles.' J Wendt