Reviews for 'THE FAR PAVILIONS' (1978)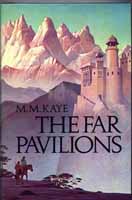 The Far Pavilions is the story of an Englishman - Ashton Pelham-Martyn - brought up as a Hindu. It is the story of his passionate, but dangerous, love for Juli, an Indian princess. It is the story of divided loyalties, of friendship that endures till death, of high adventure and of the clash between East and West.
To the burning plains and snow-capped mountains of this great, humming continent, M.M. Kaye brings her exceptional gifts of storytelling and meticulous historical accuracy, plus her insight into the human heart.
Here are some of the newspaper reviews of the The Far Pavilions following its publication in 1978.
Were Miss Kaye to produce no other book, The Far Pavilions might stand as a lasting accomplishment in a single work comparable to Margaret Mitchell's achievement in Gone With the Wind. From its beginning in the foothills of the towering Himalayas, M. M. Kaye's masterwork is a vast, rich, and vibrant tapestry of love and war that ranks with the greatest panoramic sagas of modern fiction. The Far Pavilions is itself a Himalayan achievement, a book we hate to see come to an end. It is a passionate, triumphant story that excites us, fills us with joy, moves us to tears, satisfies us deeply, and helps us remember just what it is we want most from a novel.  Edmund Fuller
* * *
This is one of those big, fat paperbacks, intended to while away a monsoon or two, which, if thrown with a good over-arm action, will bring a water buffalo to its knees.
Nancy Banks-Smith
* * *
AFTER READING "The Far Pavilions," one is tempted to use adjectives like "romantic," or "sweeping," or "magnificent." M.M. Kaye writes a story of an Englishman raised as a Hindu and sometimes Muslim, in India during the latter half of Victoria's reign.
While reading about protagonist Ashton Hilary Akbar Pelham-Martyn's exploits as an officer in the Royal Guides, I wanted to call my superiors, "Sahib," and eat curry every night. I wanted to ride an Arabian stallion across the alpine lands of the kingdom of Karicote - oh all right, you get the picture.
Author Kaye, granddaughter, daughter and wife of British Indian Army officers, tells an improbable tale with authority, conveying smells, attitudes and sights of India, all the while never coming across the least bit cheesy. This is a triumph in a story that features princesses, court intrigue, long-lost love and battle descriptions. Also impressive are the egalitarian philosophies of our hero, Ash. He believes in general equality for woman, untouchables and other beleaguered folks during the 19th century! Truly ahead of his time.
The book is hefty, weighing in at just over 950 pages, but if you survive the first 100, you're hooked for the rest. (Unknown reviewer and source)
* * *
'Pulsating.  Heartbreaking… A narrative througoubred sired by Shogun, out of The Thorn Birds… Other than Gone With The Wind, I can think of no other historical novel with such stunning narrative tempo.' Philadelphia Inquirer
* * *
Peopled with virtually realised characters… The immense scope of The Far Pavilions makes it an enthralling book.  Wall Street Journal
* * *
'A gleaming tapestry… Historic drama interwoven with high romance.  It gives the reader a sense of being caught up in the fabric of another time, with the bonus of having an informed insider's viewpoint… This novel, with its unabashed vigour, has genuine power.'  Washington Post Book World
* * *
'The novelist M M Kaye refettled the ending of The Far Pavilions to satisfy American curiosity, recalls Bruce Hunter, her agent.  "The original ending was ambiguous: when the two lovers finally got together, the question was whether they would make it in the middle of a battle.  The American editor wanted it changed so that they had a good chance.' The Sunday Times, 8 July 2001 by Stuart Wavell
* * *
'This novel presents a world… A world of brilliant colour and dark shadows, a world of valour and treachery, a world of good and evil… You will miss a tremendous experience if you fail to read it.  This is a colossal novel, not just in length but in bradth and depth.  It is one of the true Big Ones.' Cleveland Plain Dealer
* * *
'A splendid achievement – that rare and desirable combination of storytelling and totally absorbing research… One of the finest novels I have read in years.'
Helen Van Slyke
* * *
'Fabulous, enchanting, action-packed… Like Scheherezade's tales of a thousand and one nights, one wishes it would never end… filled with beauty, horror, sorrow and great excitement.' St Lous Post-Dispatch
* * *
Despite the unwieldy tonnage (955 pages), this adventure/romance set in British India of a century ago is a diverting variant on the current commercial craze for Thorn-Bird-y mammoths. To begin with, there's a real, all-natural hero who harbors not one unclean thought; who accomplishes mega-feats of headlong daring; who rescues a princess from the vilest of durances; and whose only handicap is a nobly simplistic view of English bigotry (he's baffled) and later, Indian insularity. Yes, Ashton Hilary Akbar Pelham-Martyn (commonly known as Ash) is a good chap, and when allowed to hold forth at any length a somewhat tiresome chap, but his miles of exploits -flights, treks, and needle's-eye squeezes - take center ring. Orphaned at age four, mothered by an Indian woman, Ash knows naught of his Anglo ancestry till after a massacre and a run for their lives - mama Sita dies revealing Ash's true parentage. Found by his ""other"" people, Ash is schooled in England but returns home joyfully to India, as a young man, to join the British Army. Thus begins his missions among edgy Indian despots and lead-headed British brass, which are capped by the rescue of sad princess Juli during the frenzy of a suttee ceremony. Finally, after a multitude of dark matters including a splendid, bloody, doomed battle, Ash and Juli, now married, set off to find their far, far pavilion. Not Paul Scott, not by a kilometer: the characters all move to one tune, and there are those garlands of light Brigade sentiment here and there which weaken Ash's soured view of warfare. However, Kaye shows a secure grasp of time and place and keeps the track pounding with hooves. Don't be put off by clumps of Indian nomenclature and politics. The scenery's great and the action's super.  Kirkus Review ‧ Release date: Sept. 1, 1978